You can use Filerev with all of your Google Drive accounts. You can use the Free Plan with each account or upgrade each Google Drive account for more capabilities. You can view the different plans available on pricing and plans page. Also, depending on how files are shared with your account, you may be able to clean up files for multiple accounts using one Filerev account.
How to switch accounts?
You can log in with a different account in Filerev by clicking your user avatar and then clicking Sign out. This will take you to the Filerev website, where you can log in again and select the account to log in with. Alternatively, you can use this link to switch accounts without logging out.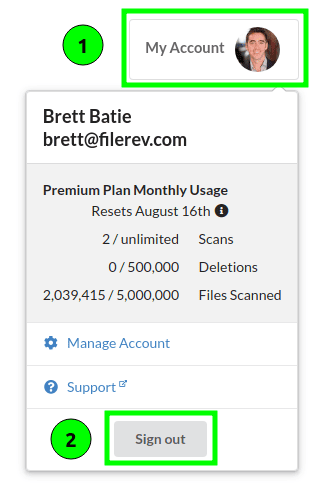 Can I share files from a second Google Drive account to clean up the second account?
Filerev will scan every file shared with your Google account. This lets you clean up files that are shared with you as well. However, when shared files are removed from your Google account, they are not removed from the owner's Google Drive account. Both Filerev and Google Drive have the same behavior when removing shared files.
That said, you can clean up files for multiple Google Drive accounts with one Filerev account if the files are in a shared drive. You could also make yourself the owner of the files in the other Google account, and then the files will be moved to your trash when deleted and removed from any accounts the files are shared with.
You can read more about how to view files owned by specific users.