Filerev's Storage Usage Analyzer will let you browse your files and folders in Google Drive to see what uses the most storage space. The screenshots below give an idea of what this looks like in the Filerev app. This is similar to many of the Disk Usage Analyzers designed for Desktop computers, except this software works directly with Google Drive without downloading all your files.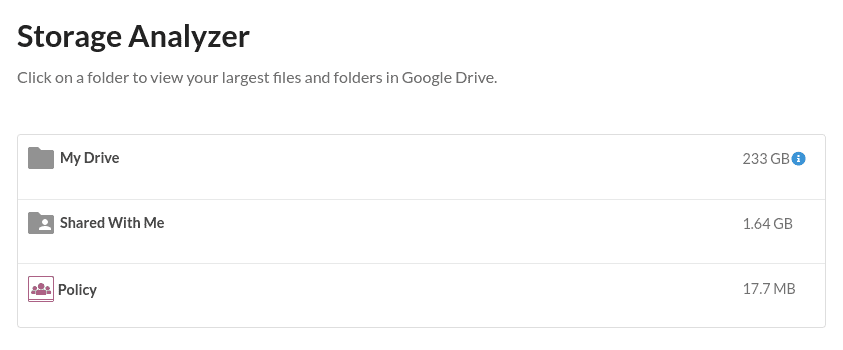 To get started, scan your Google Drive account. Then, once the scan is finished, click the Storage Analyzer option in the menu. This section will show your Google Drive account's largest files and folders at the top. You can then open any of the listed folders to see the files and folders using the most storage space in the selected folder.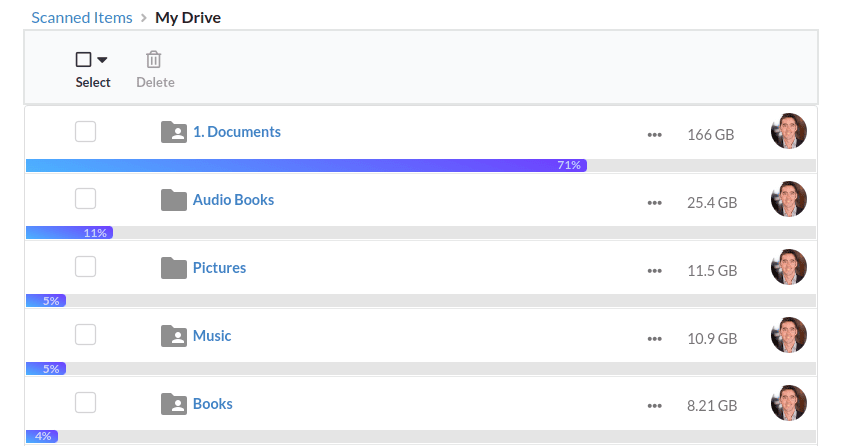 When viewing your Storage Usage, the files and folders will be sorted by the largest first. There is also a progress bar under each file or folder showing the percentage of storage space that the file or folder is consuming in the given folder. The progress bar is not showing the percentage of total storage used but rather the percentage of storage used in the folder you are currently looking at.
The Storage Usage Analyzer shows the storage usage for files and folders in My Drive as well as Shared Drives, Shared With Me and Computers synced with Google Drive. You can also have Filerev scan one or more specific folders to see the storage usage of only those folder(s).