Google Drive is one of the leading cloud storage solutions for enterprises, including large businesses, non-profit organizations, and educational institutions. Though some recent changes have made schools and universities rethink their policies, it's still a powerful option.
This article will walk through what you, as a school IT administrator, will need to know to get the most out of Google Drive for your college or university.
What Version of Google Drive Should You Use?
Google Drive is Google Drive, but the proper name for the platform you'll be using as an institutional administrator is Google Workspace. Workspace comes in a bunch of different versions, though, so we have to be a bit more specific. Namely, you'll be using Google Workspace for Education.
Google Workspace for Education has four different versions, and your choice of version will be determined by the scope and scale of your needs, as well as whether or not you're a qualifying institution.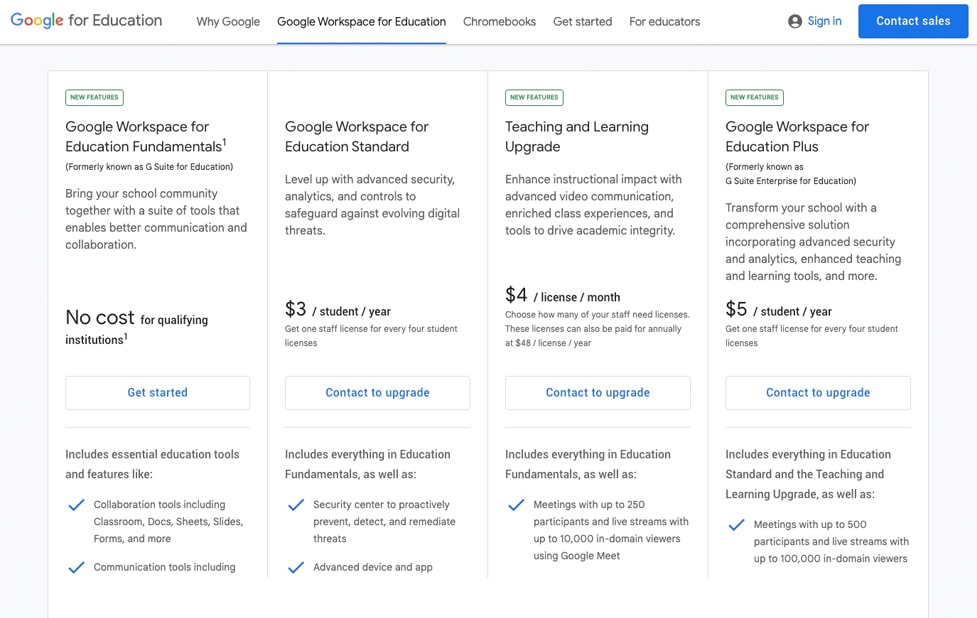 Every edition of Google Workspace for Education includes access to Gmail, Calendar, Meet, Docs, Sheets, Slides, Forms, Classroom, Assignments, Sites, Groups, Drive, Admin, Tasks, and Jamboard. Which ones you use, of course, will depend on your organization and your staff.
The four editions are:
Google Workspace for Education Fundamentals. This version is the most basic version with primary access to the features listed above, but nothing really exceptional.
Google Workspace for Education Standard. This is your general first-tier suite of additional features for institutions "leveling up" from small-scale entities to more formalized institutions with more significant needs. It includes an additional security center with threat detection, prevention, and remediation, as well as device and app management features and even logging for Gmail and Classroom logs. If your institution will have an emphasis on security, will be handing out and managing devices to staff, or has more extensive needs than what Fundamentals provides, this is a great option.
Google Workspace Teaching and Learning Upgrade. This is an upgrade that can be added to either Fundamentals or Standard. It provides more flexibility with staff-to-student ratios, access to Google Meet for meetings, live streams, add-ons for Classroom, a detailed academic honesty and originality auditing system for copyright and plagiarism detection, and more.
Google Workspace for Education Plus. This is the top-tier plan with all the features you could want out of Google Workspace. They include Cloud Search, enhanced integration with other student management platforms, the ability to build custom apps to work on your network, and a lot of additional features. For most large-scale colleges and universities, this is going to be the go-to plan.
The pricing, limits, and features of these plans vary, so we'll break down the pricing and storage limitations for each one.
How Much Does Google Drive for Education Cost?
Google Workspace for Education's four versions each have different pricing plans.
A Fundamentals account is free for qualifying institutions. What does that mean? Direct from Google:
"K–12 schools, higher-education institutions globally, and homeschool co-ops in the U.S. are eligible for Google Workspace for Education if they meet certain criteria.

K–12 and higher institutions must be a government-recognized, formally-accredited educational institution delivering nationally or internationally-approved certifications or diplomas at primary, secondary, or third levels. The education institution applying for Google Workspace for Education must submit the application."
Community colleges, public universities, and other higher education facilities can all qualify for this plan. Google's examples of what doesn't qualify include things like driving schools, churches, teacher or student websites, student organizations, and sports teams.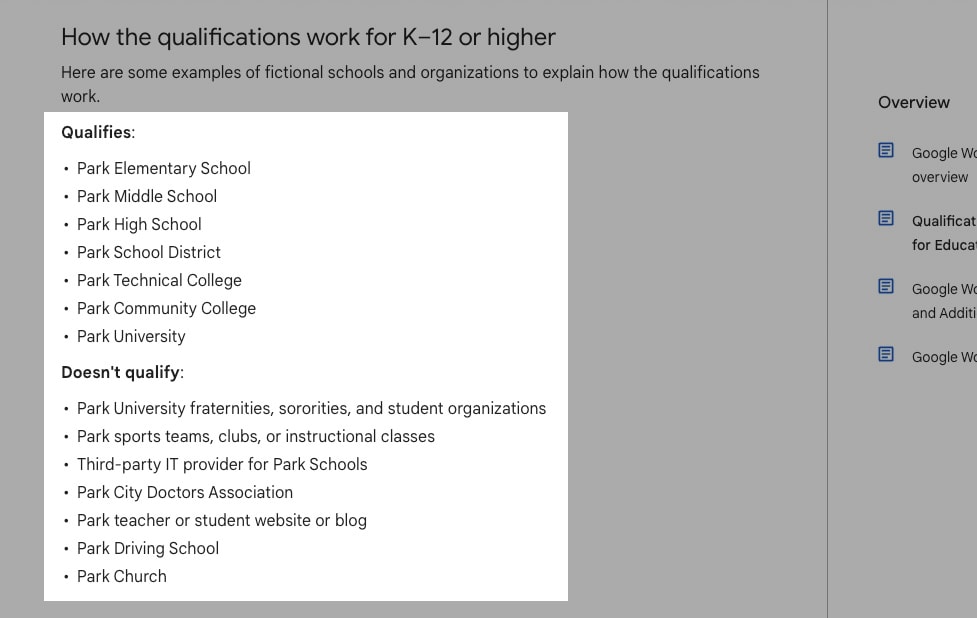 The Standard plan has a basic pricing scheme that depends entirely on your student enrollment.
It's $3 per student per year.
Included in this plan is one staff license for every four students. Many colleges and universities have somewhere in the neighborhood of 20,000-50,000 students, with community colleges falling shorter and some more prominent universities reaching higher numbers. Texas A&M, listed as one of the most populous universities, has around 72,000 students. Of course, you'll have a better idea of how many students you have than I would.
The Teaching and Learning Upgrade is more flexible. Pricing is $4 per license per month.

Note: Notice how it says "license" and not "student"; both students and staff need licenses, and you can choose how many of the licenses you purchase are staff licenses. Note as well that this is per month, not per year like the other plans; it works out to be $48 per license per year, a significant upgrade over the other licenses.
Note that both the Standard and Teaching and Learning Upgrade can be purchased at the same time for your institution. There's not much reason to do so, but if you have specific needs that the Plus plan doesn't cover but the combination of the other two would, it might be a viable choice. You might consider talking to Google directly to ask about customizations or variations for your organization if you fit in that specific zone, though.
The Plus plan is $5 per student per year and once again has one staff license for each four-student license. Generally, if you need more than what the previous plans offer or you want something that comes in a combination of both of them, the Plus plan will be your go-to choice.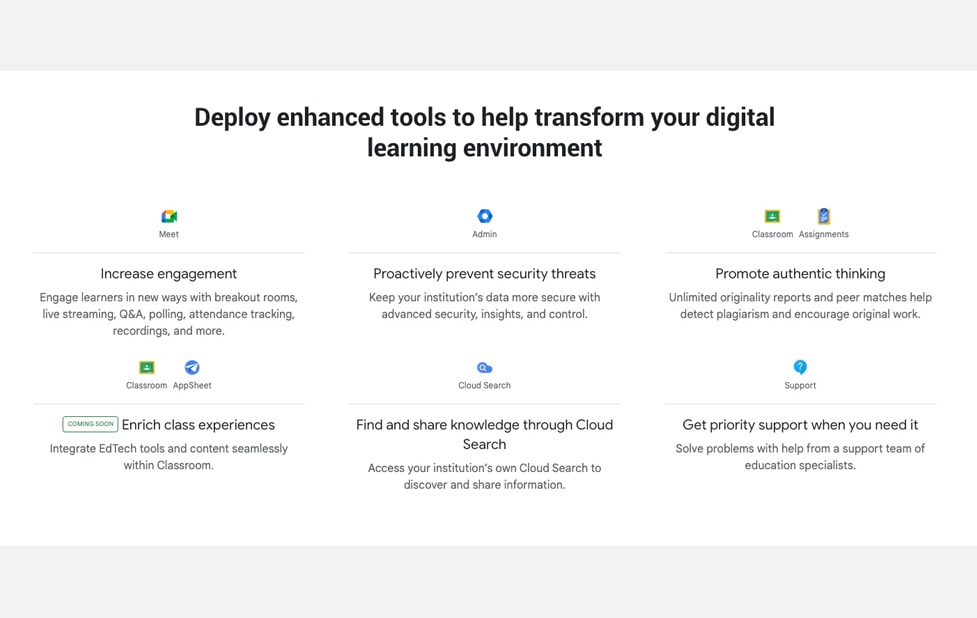 It's also worth mentioning that there are potential discounts available. If you purchase multi-year contracts, Google will offer a long-term deal on the pricing automatically.
All pricing is an annual contract, even if you're paying monthly for the Upgrade. You can reevaluate your needs and change your contract each year, but you can't upgrade or downgrade mid-year. That said, Google also says:
"Customers who purchase the Teaching and Learning Upgrade can add Education Standard at any time (and vice versa) and to Education Plus."
Does Google Drive for Education Have Storage Limits?
Unfortunately, yes.
Previously, Google Workspace for Education Fundamentals – the free version many universities and educational entities relied on – had unlimited storage. However, they announced that they would be capping the storage for the free plan eventually, and that day had finally arrived. As of July 2022, there is now a cap on the pooled storage that a given entity is allowed to have in its Google Workspace accounts.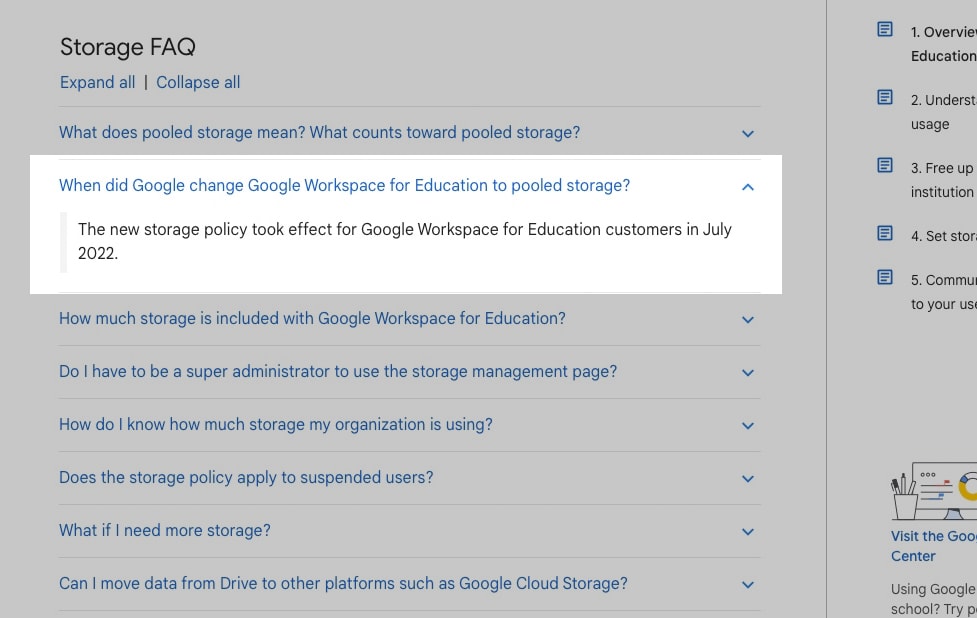 The current limit for Fundamentals is 100 TB. This is pooled storage, which means it's a single cap for all of the institution, shared across all of the accounts used by students and staff. It includes everything on Google Drive, in Google Photos, in Gmail, and anything created or edited after May 2, 2022, in Docs, Sheets, Slides, Forms, Drawings, and Jamboards. The exception is anything in Google Vault that doesn't count against the shared quota.
There are three ways to get more storage for your institution.
The first option is to purchase licenses for the Teaching and Learning upgrade. If you use Fundamentals or Standard, adding licenses of Teaching and Learning will give you an additional 100 GB per license.
These licenses must be assigned to users for the storage to be added to your total institutional account, so you can't just buy empty licenses for the storage. There's no cap on the number of licenses you can buy beyond the number of people you can assign them to.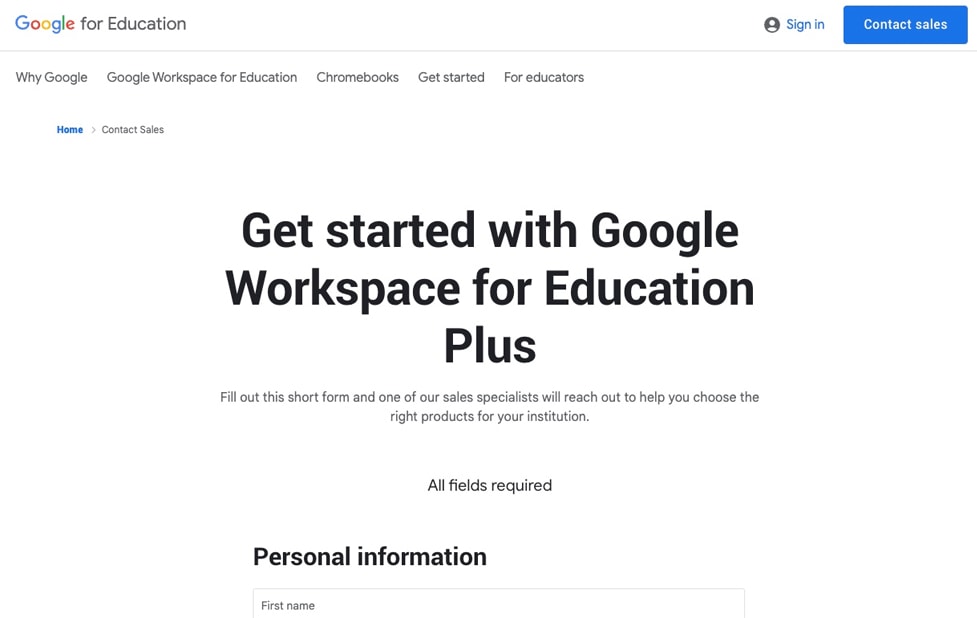 The second option is similar; purchasing Education Plus licenses. Each Plus license adds 20 GB to your pool. While this doesn't seem like much, remember that each Plus license is much cheaper than each Teaching and Learning license, gives you access to a lot more features as an institution, and this is per license. To illustrate the difference, imagine you're a small community college with 10,000 students.
Fundamentals is free and gives you 100 TB of storage for your full 10,000 students.
Buying Standard keeps you at 100 TB for your account.
Buying Plus would be $5 per student for 10,000 students but would get you 10,000 instances of 20 GB for a significant increase (200 TB) in available storage.
Obviously, it's a lot more expensive than "free," but still a lot cheaper than:
Buying 10,000 instances of the $48/year Teaching and Learning upgrade, which would give you 1,000 TB for the same number of licenses.
Of course, the addition of other features muddies the decision-making here.
The third option is to buy more storage for your current plan. You can purchase instances of the Google Workspace Additional Storage license, which is 10 TB of additional storage each. Each 10 TB is $300 per month or $3,600 per year. It's not inexpensive, but in some situations, it's worthwhile.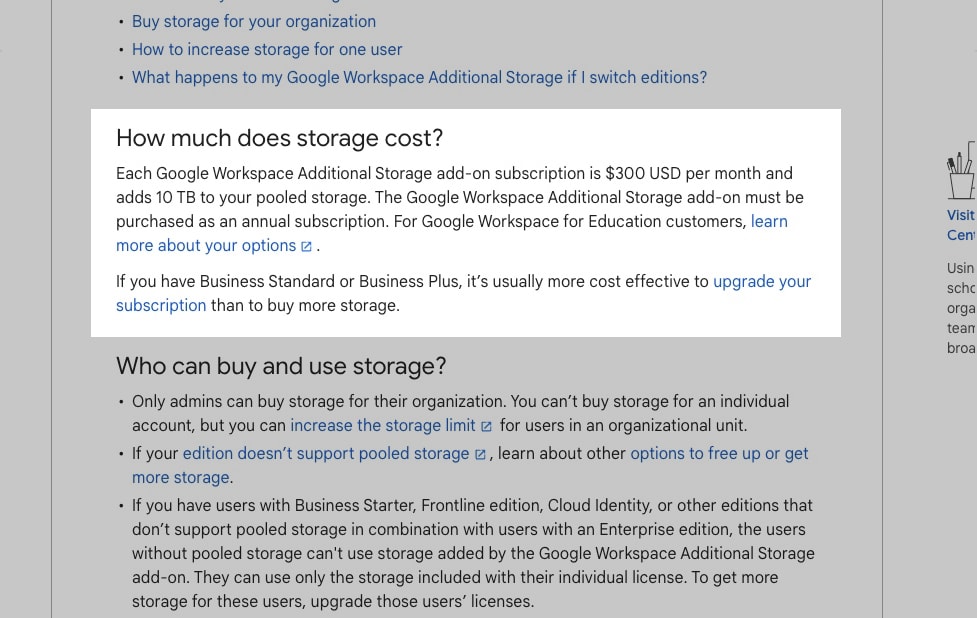 To sum up:
Baseline: 100 TB for free.
T&L Upgrade: $48 per 100 GB, or $0.48 per GB.
Plus Upgrade: $5 per 20 GB, or $0.25 per GB.
Added Storage: $3,600 per 10 TB, or $0.36 per GB.

Note: This decision mostly comes down to the scale of your needs, your current plan, your budget, and how much you value the additional features you get from one of the upgrades over Fundamentals.
Does Google Drive for Education Have File Count Limits?
Another question is whether or not Google Workspace for Education has any limit on the number of files that can be stored across the account. The answer is, in general, "no," but with caveats.
Specifically, shared drives have a file count limit of 400,000 items. This limit counts files, folders, and shortcuts, not just files, so keep that in mind.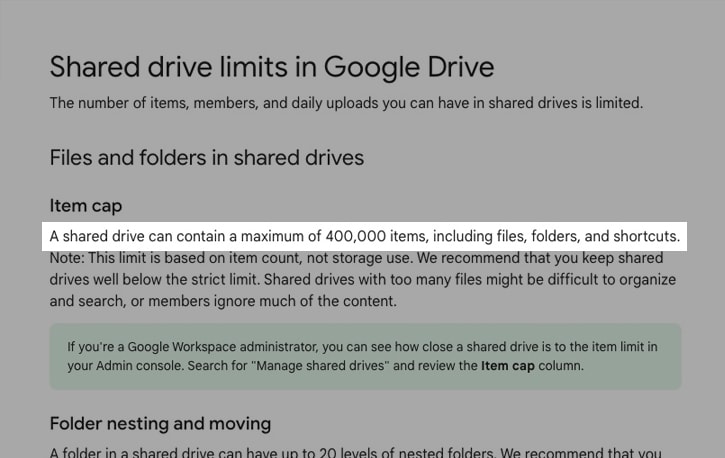 Individual accounts, however, do not currently have a file number limit. Google rolled one out as an experiment just a few weeks ago, capping it at five million items, but broad backlash caused them to roll it back and return to unlimited file counts.
The average student probably won't be anywhere near reaching either of these caps. Teachers and administrators may be more likely, as would an organization-wide shared drive, but it's relatively easy to keep them under control.
How Secure is Google Drive for Education?
Google takes security seriously. Files stored on their cloud are encrypted, and virtually no Google employees are able to access any individual user or entity accounts, and those who can are heavily audited and logged. Intrusion into Google accounts almost always comes from causes like compromised user accounts and phishing victims, not technical exploits or security holes.
Google is also very active in patching security issues and exploits when they're discovered.
Google offers a lot of baseline security features even to their free Education Fundamentals customers, as well as plenty of support available to implement them and solve security problems. Additional security features, logging, auditing, tracking, and more are all part of the paid plans and give administrators even more control.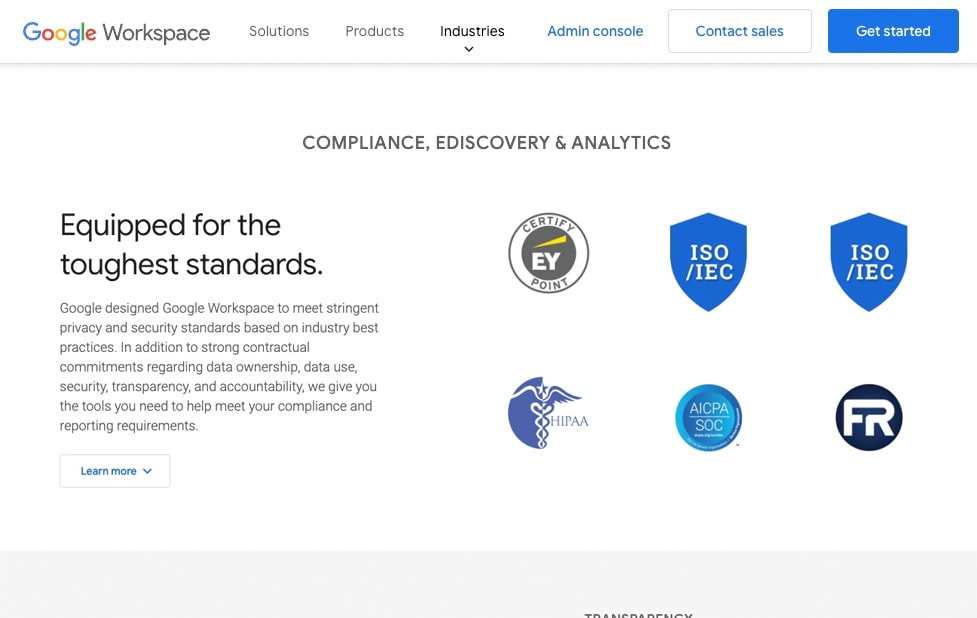 Obviously, I highly recommend implementing them.
Though, the most significant risk to any facility is the data practices of the people using it.
As long as your organization is set up correctly, only a few users will be "load-bearing," such that compromising them would be devastating; those accounts should be highly restricted, use two-factor authentication, and have other security features implemented on them.
For everyone else, the use of 2FA, good IT security practices, and training are about the best you can hope for.
What Are Some Best Practices for Colleges Using Google Drive?
There are a lot of things that school IT administrators can do to set up Google Workspace for Education properly.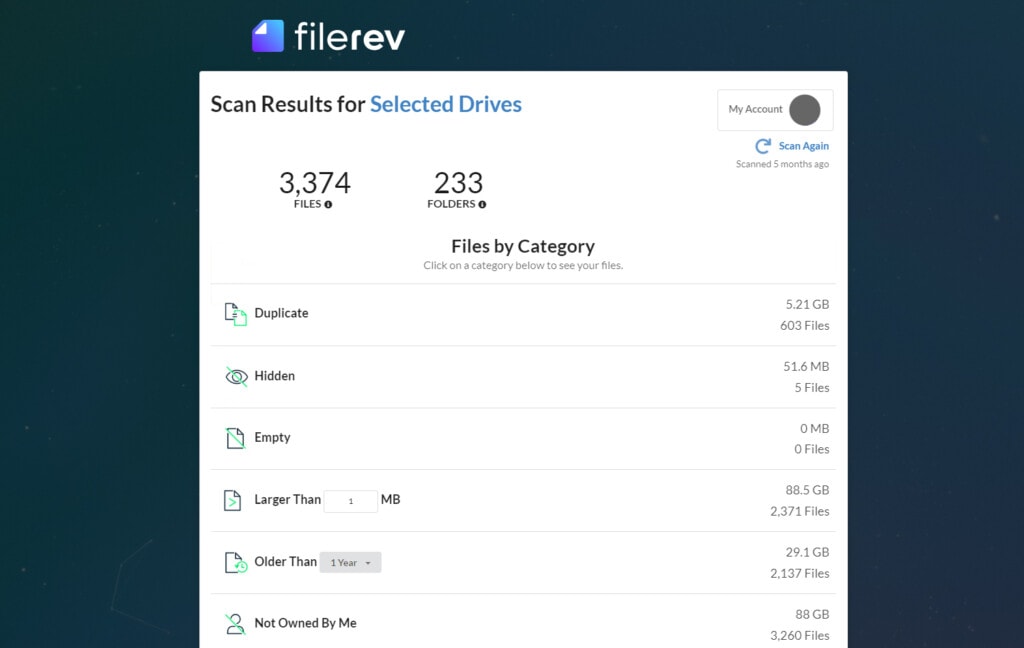 While some of them may depend on circumstances, here are a few ideas:
Use Filerev. Filerev helps universities and colleges across the world reduce costs, eliminate storage bloat, and stay within their account limits. If you're interested in a multi-license quote for your college or university, please get in touch with us!
Set up DLP. Data Loss Prevention is a set of security and auditing rules you can implement to make sure confidential documents can't be shared, essential files can't be deleted, and if any violations occur, they're reported.
Implement alums, students, and staff off-boarding. With unlimited storage, many facilities left their alums with access to their legacy accounts. With new storage limits, those inactive or legacy members are not a liability. Audit and remove access to people whose accounts are no longer necessary.
Implement good data security education. The best security rules and technical limitations can only do so much when users want the convenience of circumventing them. Educated users are the best defense.
Maintain and regularly update your data retention policy. This document serves to both inform users what kind of storage usage is acceptable (and unacceptable), as well as shields you from liability.
Whatever you end up doing, know that Google Workspace for Education is still an excellent platform, even with the recently-added storage caps.