Google is notorious for making changes to systems, splitting them and merging them, keeping legacy versions around, and changing their plans to retire some things. They occasionally retire plans while many people still love and use them.
Google Drive is no different, with storage available through Google Drive, Google One, Google Workspace, G Suite, Google Cloud Identity, and much more.
It's a bit of a confusing mess, but I'll do my best to demystify it here and help you figure out what you get for different packages.
Google Workspace
First of all, let's take a look at the basic Google Workspace. Google Workspace, formerly known as G Suite, is their broadly applicable "for business" productivity system. All plans have a 14-day free trial and offer access to Gmail, Google Drive, Meet, Calendar, Chat, Jamboard, Docs, Sheets, Slides, Keep, Sites, and Forms.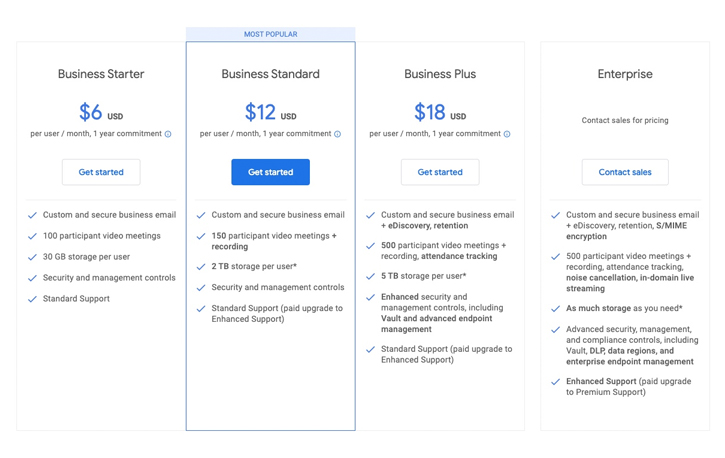 There are three Business plans available, with rising costs and features lists. These are:
Business Starter. This plan costs $6 per user per month. It caps you at 100 participants in video meetings, 30 GB of storage per user, and only basic security features.
Business Standard. This plan costs $12 per user per month. It increases caps to 150 video chat participants and allows recordings. It provides 2 TB of storage per user shared across the organization. You can also pay extra for priority support.
Business Plus. This plan costs $18 per user per month. It gives you eDiscovery and retention features with business Gmail, up to 500 video meeting participants, and meeting attendance tracking. Storage is bumped to 5 TB per user, and they also throw in Google Vault for further enhanced security.
You can purchase each of these plans on a per-user basis with a minimum of one user and a maximum of 300 users.

Note: If you need more than 300 users, you must look into Enterprise.
That's right; though it's presented as an upgrade, the Enterprise edition is slightly different than Workspace Business. Critically, Enterprise offers generous storage limits. This feature was essential in 2020 when the migration from G Suite to Google Workspace kicked into overdrive, and people who formerly used G Suite's unlimited business storage were forced to make a decision.
Google Workspace Enterprise
Google Workspace Enterprise is, unsurprisingly, difficult to pin down. Google has a feature list set up next to their general Workspace Business plans and itemized features such as:
S/MIME Encryption for Gmail.
Noise-cancellation and live streaming for video conferencing.
Unlimited storage (with a big * next to it).
Enterprise endpoint management and other security features.
Enhanced support for free, with premium support as an upsell.
The trick is Google doesn't tell you if there are, in fact, multiple Enterprise plans or what the cost of those plans is.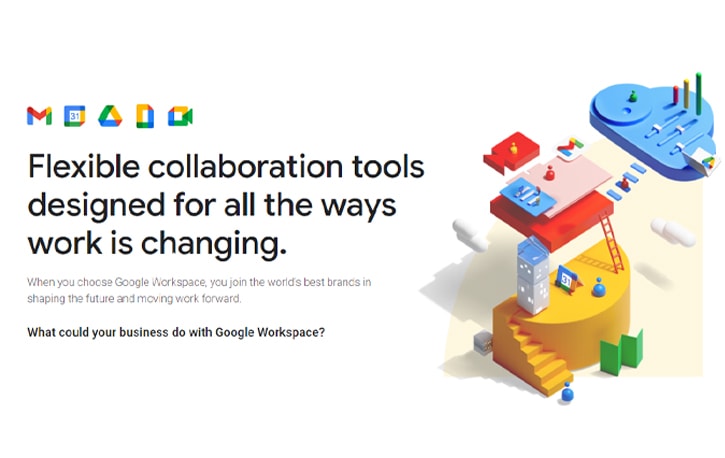 Even their Enterprise landing page pushes you to contact sales. Their help center feature comparison is equally unhelpful. Unless you're already a Workspace Enterprise administrator, they will show you the features you already have.
Various reports from people attempting to contact sales, or going through the upgrade process, say that there are two plans:
Enterprise Standard. This plan is $20 per user per month.
Enterprise Plus. This one is $30 per user per month.
It also gives you more access to enterprise-level features, like big data querying and connected sheets, security and compliance auditing, machine learning enhancements, Google Vault as a default option rather than a paid add-on, and more.

Note: One quirk of this is that Enterprise is listed as giving you "as much storage as you need" or unlimited storage, depending on where you look. As it turns out, if you have less than five users on your account, you need to request additional storage from Google. At five or above, your storage is unlimited by default.
Google Workspace Education
Many companies offering B2B services have education-specific options designed for various schools, and Google is no different. G Suite for Education was transformed into Google Workspace Education, which has its own editions.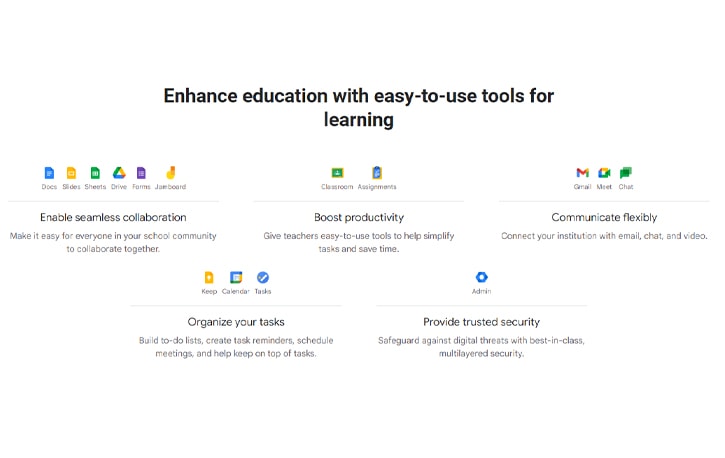 All Workspace Education plans include Gmail, Calendar, Meet, Docs, Sheets, Slides, Forms, Classroom, Assignments, Sites, Groups, Drive, Admin, Tasks, and Jamboard.
There are four plans for Workspace Education. They are:
Workspace for Education Fundamentals. This plan is the "free" version of Workspace for Education, but it's only free for qualifying institutions. Which institutions qualify? Well, that isn't very easy to say. You can read their help center about it here. The Fundamentals account is also quite limited and low-volume.
Workspace for Education Standard. This plan is $3 per student per year, with a free staff account for each four student accounts. It gives you more security features, device and app management and auditing, logging, data management, and higher usage limits.
Workspace for Education Plus. This plan is what G Suite for Education Enterprise used to be. It's $5 per student yearly, with the same additional staff licenses. It also gets you meetings with up to 500 participants and organizational live streams for up to 100k viewers. It also has a ton of syncing, cloud search, and additional educational features.
The Teaching and Learning Upgrade. This plan is $4 per monthly license and is an upgrade for staff licenses. It offers many of the features of Education Plus, scaled back for smaller scope. Why it has a different name and pricing scheme than the others, only Google knows.
Education Fundamentals is free for qualifying institutions. Both Fundamentals and Standard offer 100 TB pooled for your organization, regardless of user count.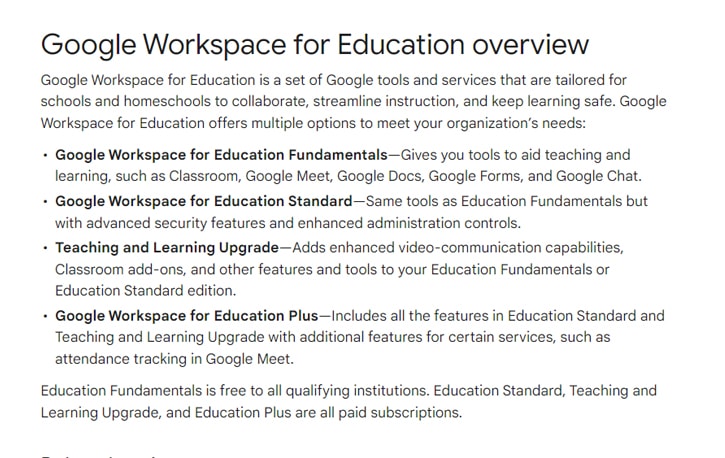 The Teaching and Learning upgrade adds 100 GB of storage per staff license. Education Plus gives you 20 GB per license and the base 100 TB pool.

Note: It's worth noting that this is a change they announced in 2021 and rolled out in 2022. Before that, educational accounts had unlimited storage, but Google put limits on them. This change has resulted in many organizations implementing data policies to reduce storage usage.
Only Google Workspace for Education Plus accounts can purchase storage upgrades in 10 TB increments. Those 10 TB upgrades are costly. However, it's an upgrade eligible to Business Standard, Business Plus, Enterprise, and Education Plus, costing $300 per month per 10 TB upgrade. They are paid annually.
It would seem that Google doesn't want to offer unlimited storage on Google Drive anymore.
Google Workspace Essentials
If you're familiar with B2B software terminology, the term "essentials" usually means a pared-down version of an app available for a lower price.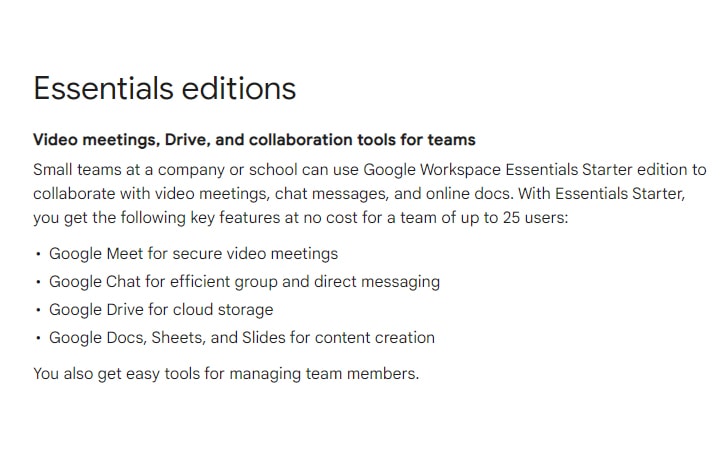 Is that true of Workspace? Sort of.
Workspace Essentials comes in three forms: Starter, Business, and Enterprise.
Google Workspace Essentials Starter is a small, team-centric set of Google apps. It includes Meet, Chat, Drive (with 15GB of storage, just like any other free Drive account), and the Docs/Sheets/Slides set. It's also free for up to 25 users, with any 25-user sets available to a business. This feature is most comparable to Education Fundamentals.
Essentials Business gives you Meet, Drive (with 15 GB, again), Chat, Docs, Sheets, Slides, Tasks, Calendar, Forms, Sites, Keep, and pooled storage. So what's the difference between Essentials Business and Business Starter (or the other Business plans)? Emails. The Essentials plan is designed for your existing email system, whether you use Microsoft emails, your custom domain, or another method. Business plans, and most other Workspace plans, require you to use Gmail (or jump through hoops to link your domain to Gmail's systems.) It is, however, also free.
Essentials Enterprise is basically the same as above, except with Enterprise features. It's aimed at enterprises looking to use their systems but with Google's apps. It also costs an unspecified amount of money.
Google Workspace Solutions
Google also has a range of focused Solutions. Some are just rebrands of their generic Workspace Business or Enterprise accounts, with use cases and industry-specific examples in their sales language. For instance, Workspace Retail, Manufacturing, and Technology are all just Workspace generic.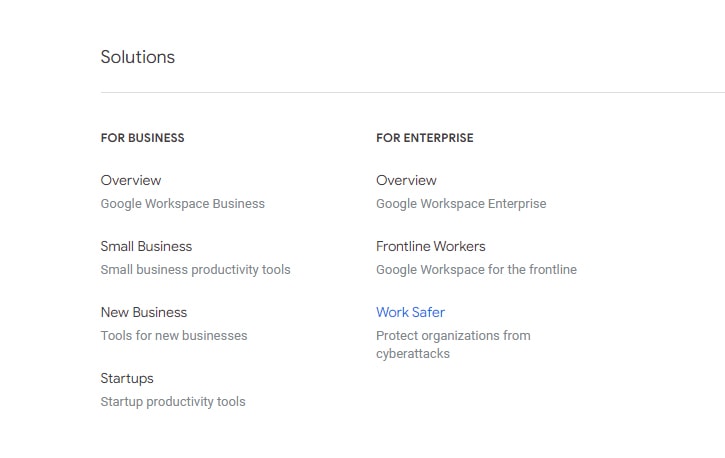 One stand-out example is Workspace for Nonprofits. Workspace for Nonprofits is a limited offer only available to registered nonprofit organizations. There's a free version, or you can get Business Standard, Business Plus, or Enterprise, all at a discount over standard pricing. You can see the specifics here. One item of note is that these versions have a maximum user cap of 2,000, rather than the Business default of 300, though Enterprise is still unlimited.
That's enough about Workspace; what about other, similar kinds of Google services?
Google Cloud Identity
Cloud Identity is an identity and account management platform. Despite being named Google Cloud, Cloud Identity isn't a Workspace plan, though it is an optional service that you can add to Google Workspace. It manages single sign-on, account security, multi-factor authentication, and device management.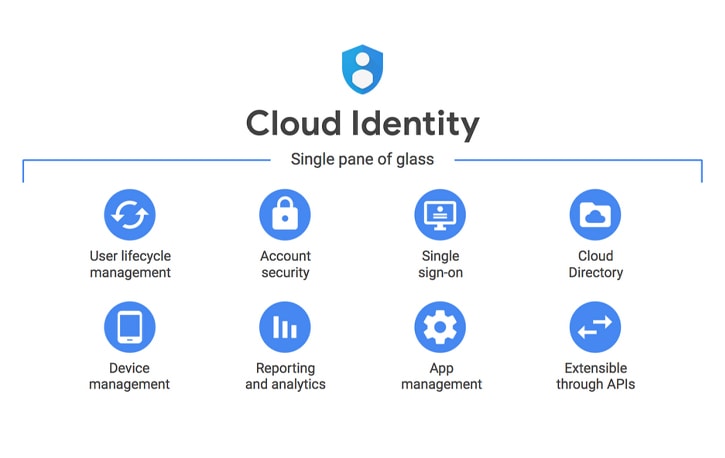 Each account will receive 15 GB of Google Drive storage for each user created, regardless of the account type. The two account types are:
Cloud Identity Free. This account type is somewhat limited and similar to a regular Google account. To quote Google: "In most cases, Cloud Identity Free edition users have the same identity services as Google Workspace users."
Cloud Identity Premium. This upgraded offering is $6 per month per user and has all its enhanced security attached.
Again, while this is tertiary to Workspace and includes access to various Google apps, it's not the same service.

Pro Tip: Some users discovered a way to use a custom domain email on Google for free without paying for Google Workspace, as well as most of the features of a standard Gmail account (including 15 GB of Google Drive Storage). The only downside is you won't have access to Gmail or Calendar. This works by signing up for a trial of Google Workspace Starter, adding Cloud Identity Free to your admin account, and then turning off Workspace Starter. You can read more on this Reddit thread here.
Google Cloud Storage
While calling Google Drive "cloud storage" is true and accurate, Google also has a service called Google Cloud Storage. This system is designed for enterprise-level, high-grade, high-reliability storage solutions.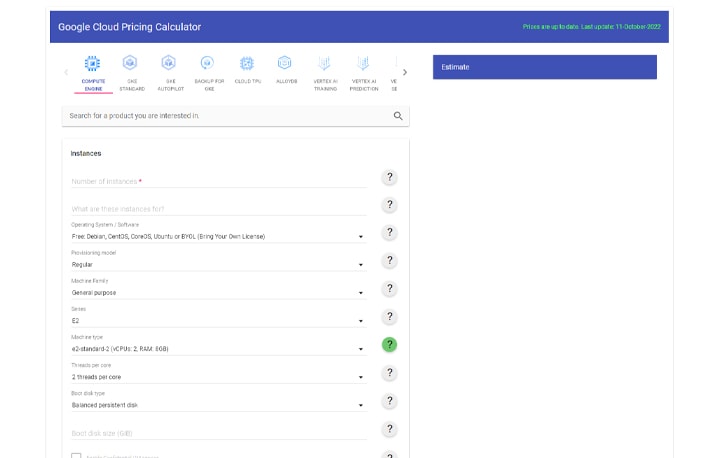 Think "legally-mandated data archival, " "real-time mirroring across the country," and other such use cases. It's used for things like data replication, archival, and object lifecycle management.
Since nothing is ever simple, Google Cloud Storage has pricing charts. They use these charts because pricing depends on the kind of service (standard storage, nearline storage, cold line storage, or archival storage), the region Google should store the data in (and if it should be in multiple areas), and it's all per-gigabyte rates. You can see their charts and a calculator here.
You're buying space in Google data centers and their bandwidth, essentially. This option is likely overkill for most small businesses and organizations for their basic cloud storage needs.
Google One
Where everything else on this list has been designed for businesses of various sorts, now we come to Google One. Google One is the paid upgrade to your standard personal Google Account.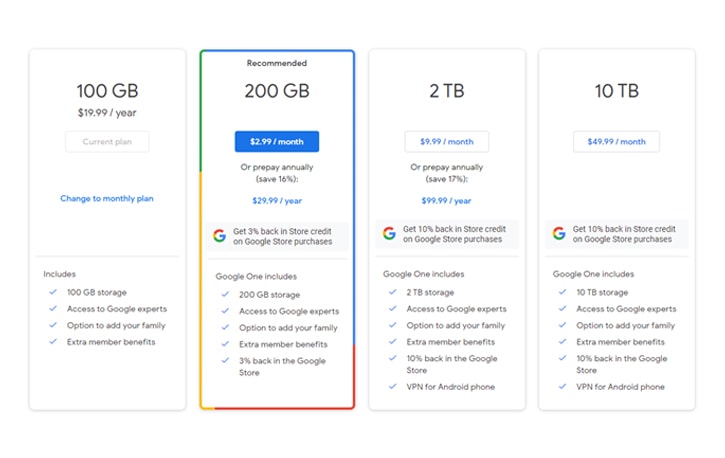 Google One is aimed much more at individual and family unit user groups. It's all about storing and sharing documents and photos, family experiences, collaborative trip planning, and so on.
Google One Basic: This bumps your usual Google Account storage up to 100 GB and can be shared with up to five other people (six accounts in total.) It costs $2 per month.
Google One Standard: This bumps your storage to 200 GB and gives you cash back in the Google Store, on top of the other benefits. It's $3 per month.
Google One Premium: This gives you a whopping 2 TB in storage, 10% back in the Google Store, the other benefits, a VPN for Android and iOS, and… Google Workspace Premium. Wait, Premium?
Google Workspace Premium isn't really "Workspace." It's a series of Workspace features, mostly related to video calling, meant for family video calls. It's part of Google One and gives you some Workspace-like features but better Drive storage. But, you lack the business collaboration and other elements of Workspace Business.
Google One family sharing is not comparable to Workspace sharing, either. In some ways, it's more flexible, but you cannot share with more than your five designated family members (though you can add and remove family members as needed).
Five is the limit; there's no way to increase it.

Note: Google One is the only plan listed in this article that requires an @gmail.com email address. This means if you have an email address at a custom domain, you can't use it for a family account, and you'll have to create a Workspace account instead.
Which Google Workspace Version Is Right for You?
It's just scratching the surface of Google's maze of interconnected services. Google Workspace is, however, a lot more unified than G Suite was so it's a step in the right direction.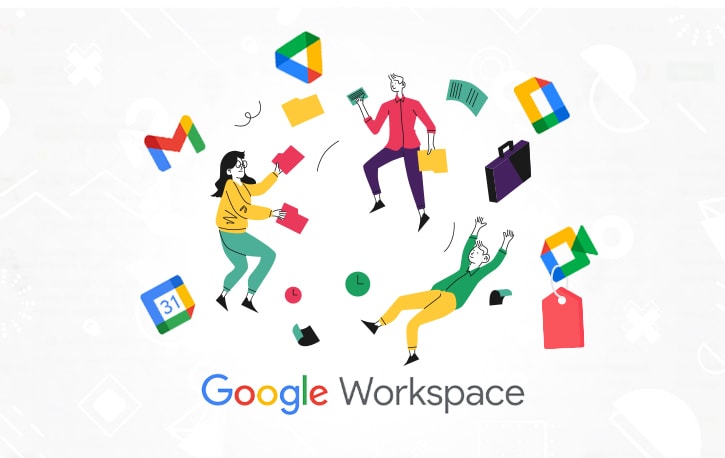 So, which version is best for you? Honestly, it's relatively simple.
Are you a family group looking to share photos and personal data? Use Google One.
Are you a nonprofit? Take advantage of the discounts for nonprofit organizations for Workspace.
Are you an educational facility? Check to see if you qualify for a free Workspace Education Fundamentals plan with 100 TB of storage; otherwise, purchase one of the education plans.
Are you a business? Use Workspace for Business with the plan appropriate for your level of needs.
Are you a big business? Use Workspace Enterprise.
Everything else, like Cloud Storage, Cloud Identity, and so on, are additional upsells and add-ons; you'll know if you need them.
There's a lot of available upgrading and downgrading between different versions of Workspace, but things like Workspace and One are separate. There's no easy upgrade from One to Workspace; you can have both if you want. Just pick the services best for your use case.